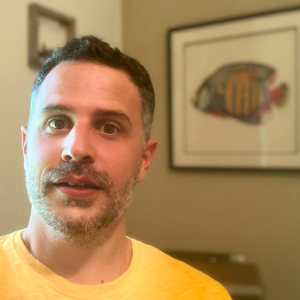 Dresser l'état des lieux de la biodiversité marine, Comprendre et modéliser le fonctionnement et l'évolution des organismes et des écosystèmes marins, Evaluer les causes de la perte de la biodiversité marine, Promouvoir une pêche et une aquaculture marines durables
WARMFISH, MISS (MICROARN, SEX & STRESS), SWITCH-R
Biologie des organismes, Biologie moléculaire, Ecologie comportementale, Ecologie de la conservation, Ecologie évolutive, Ecophysiologie
Poissons côtiers et récifaux, Poissons d´élevage : bar...
Ecosystèmes côtiers et littoraux, Ecosystèmes coralliens
I'm working on various topics in Evolutionary Biology and Ecology at the French Institute for the Exploitation of the Sea (IFREMER). 
I have an on-going interest in studying the physiological mechanisms that allow fishes to cope with their environments. More specifically, I'm interested on their amazing capability to reproduce, develop and thrive in different situations.
Beyond the proximate physiological mechanisms directly involved in sex differentiation/determination, I'm also interested in ultimate causes that have promoted the existence of a plethora of sex determination types (from strictly genetic to environmental). Causes and consequences of consistent inter-individual differences in behaviour, i.e. personality, are also among my main interests.
Overall, my researches are placed in an ecological/conservation context where I try deciphering some of the various physiological and behavioural mechanisms that trigger changes at the population level.
My 3 main axis of Research are:
1) The effect of stress on sex determination in fish, from physiology to ecological consequences (3S project)
2) How managing stress and sex in an aquaculture context (MiSS project)
3) The effect of Human Induced rapid environmental changes (HIREC) on fish physiology (stress, sex, reproduction) and behaviour (Warmfish and SWITCH-R projects)
2017 –  actual                         
Researcher
(MARBEC, Ifremer)
2015 – 2016                             Post-doc researcher LPGP, Rennes.
2013 – 2015                             Post-doc researcher at UFMT & UNEMAT, Mato Grosso, Brasil.
2012  : Ph.D                             Reproduction Physiology & Behavioural Ecology, University of Pau.                     
2009  : University Degree        Aquaculture, Cadarache
2008  : MASTER   2                Function and Dysfunction of Aquatics Ecosystems, University Bordeaux 1
2007  : MASTER   1                 Coastline Environment (Equivalent to BSc in Marine Biology)
                                                  University of La Rochelle, 1st Semester.
                                                  University Of Southampton, NOCS, England, 2nd semester
2006  : Bachelor                       University Paul Sabatier, Toulouse