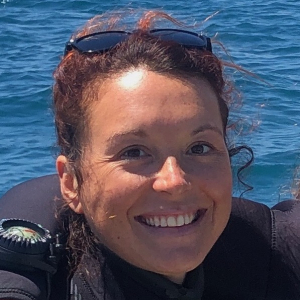 UNIVERSITÉ DE MONTPELLIER
Dresser l'état des lieux de la biodiversité marine, Proposer des outils de conservation de la biodiversité marine et anticiper les risques émergents
Ecologie de la conservation, Ecologie des populations et des communautés, Génétique des populations
Poissons côtiers et récifaux, Requins et raies
Ecosystèmes côtiers et littoraux, Ecosystèmes coralliens
Méditerranée, Océan Indien ouest
My research interests lies on :


 Genomics of marine organisms, Connectivity and Seascape genetics


The use of genetic and genomic tools to study marine connectivity and adaptation has been my first research area during my PhD. Marine connectivity, seascape genetics/genomics and adaptation remain major research interests to me, as I believe these fields provide crucial information to develop efficient conservation and management strategies in face of global changes.


Conservation, biodiversity monitoring and ecological restoration


Conservation science is about understanding the ecosystems, how they function, what threats they are facing and how they react to these threats, in order to propose solutions to efficiently protect them. Conservation relies on ecology and biology to better understand the dynamics of ecosystems and species. It also requires to account for the socio-economic stakes that are tied to natural areas, such as fisheries, tourism and coastal development. I believe in trans-disciplinary collaborations to gather scientific information, but also human and society considerations, to build concrete solutions to maintain healthy ecosystems and limit the erosion of biodiversity.
Environmental DNA is a relatively recent technic that has been booming over the past few years thanks to rapid technology advances. The principle is rather straightforward : get a sample of seawater in a given site, sequence all the DNA inside that water sample, and infer from this DNA which species have been present in the site.
eDNA is the main focus of my current position at MARBEC, where I am working to develop this tool to monitor fish biodiversity and evaluate conservation measures.  eDNA can have multiple uses, from the tracking of endangered species to biodiversity inventories and early detection of invasive species. This tool offers new opportunities to build partnerships with conservation practitioners and other biodiversity professionals to develop long-term monitoring strategies and inform conservation and restoration activities.
...
Beyond my scientific and research interests, I am also interested in science communication to bring scientific findings to a broader audience and facilitate dialogue with the various stakeholders involved in the management of marine ecosystems.
I am also a passionate scuba diver and scientific diver, certified CAH1B and PADI instructor  with expertise in conducting underwater biodiversity surveys and teaching species identification.